Finally checked out the ever popular CW TV series, Reign. Thanks to Netflix all of the seasons are available to stream.
I'm a little bit of a sucker for a good historical themed TV show. Reign is definitely on my top list of historical themed TV shows. The actors used in the show were very well chosen. The actor for King Henry II looked very familiar. While watching Reign it suddenly hit me… Shadowhunters! Alan Van Sprang played King Henry II in Reign but also played Valentine Morgenstern on Shadowhunters. It was a little odd at first knowing he played Valentine… but he did such a good job as King Henry II. Apparently he also played in The Tudors as Francis Bryan… another TV series that I have yet to watch.
There is one thing that drives me crazy above all in Reign. The fact that Mary chose Francis over Sebastian. I understand why but in my opinion Mary and Sebastian were a better pair. If Sebastian didn't exist then Francis would have been better for her… but she seemed more herself with Sebastian. It was heartbreaking seeing Sebastian always ensure Mary's safety, knowing how he felt. Let's not forget King Henry forced Sebastian and Keena to wed!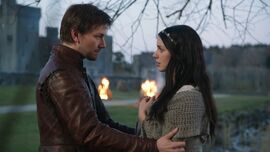 Like what you're reading so far? Subscribe and Follow: